There are many rewards in building your brand. It takes time, but once that brand is established it becomes the reason for its product success or failure. In short branding is THE THING that sets your " thing" as an individual force against and over all the other non-essential and the uninspired like it.

It is the THING that makes your "thing" relevant.

So what happens when you compete against something that already has a brand? A brand that had grown over decades. A brand that not only has millions of followers, but is a household name in its respective circles. A brand that had expanded into other forms of media. How would you compete?

Worse off, what if the "thing" your pushing is of the same quality or better? How do you, compete against it? It has decades of fan-fair. It creates in multiple forms of media. It has the numbers and the history that make the product the consumer's number one choice.

Your thing is good, HELL, even great, but it its brand is still building: not built.

You have followers, consumers, people who like what you do, but when posted against an established brand, you lose: You lose every time.

Sound familiar? I'm talking strictly to those who are creating or building their brand. In particular I'm talking to the independent comic creator. Don't worry I'll get to you fans and consumers in a tic.

So, here you are. You've gone out, , and created (usually through blood, sweat, and tears) something that you can hold your head high for creating. You've drawn, written colored, lettered and even printed your idea to fruition, or at worst put together a team to make it happen. Your very own Ocean's 11.

Now comes the hard part. Getting people to take a look at it.

We live in great times ladies and gents. The internet, and social networking has almost completely obliterated the use of the middleman, or in this case, publishers.

GoFundMe, Indygogo, and Kickstarter are great places to get eyes on your comic and really test the market for your product. Website are even easier to create and create a permanent home for those interested to see, and buy your product. So, hypothetically, independent comics, compared to mainstream comics can't loose, right?

Notice I said "hypothetically".

Truth is, the actuality of that idea is further than closer to the truth.

Independent artist "Status" in the comic field.

There are some comic artist who only make a book to get a job at one of the mainstream companies. I understand this only partially. I understand it is a good argument for those companies giving you work. I would give work to someone who does a WHOLE BOOK OR SERIES, compared to a couple of penciled pages (no offense to those who only work on submissions). Doing it this way shows that not only can you potentially keep a deadline, but you also have managerial skills, and possible more talents than just drawing , depending on what you accomplished in your book/ books.

It also shows that you are in no way serious about that "thing" you've created, and are willing to drop it a moments notice.

I'm not judging, I just don't see the point. The companies your looking to give you work were at one time in your shoes. Potentially that means, with enough perseverance, your " thing" can as big and successful as theirs: BUT NOT IF YOUR NOT WILLING TO STICK WITH IT.

I hear those argue about building your name with those companies and then branching off. Again, I see your point. But that is a slippery slope. You get to draw characters adored by millions all over the world, that transcend generations. You're paid well, and you can do what you love. But, in the end, you're a penciller, maybe a penciller/inker in the lines of hundreds of those who came before you and even more after you.

Your known for the work you've done to extend another brand that is not your own, all while hardly working on your brand if at all. Whether if its months, or years, in that time you could've been working on your product and might've even seen some fruition for your efforts in that time, but instead your know as the guy or gal who drew Spidey or had that great run of the Justice League.

See that?

Don't get me wrong, There's nuance in doing that. Know your strengths and weaknesses I'd say, and truth be told, if Disney or Warner wanted me to create for them, I'd be willing, but I understand the danger in losing what I've been trying to accomplish and take steps to would prevent any loss. Plus they'd have pay me twice. Once for working on my product and twice for me not working on my own in the meantime.

But I digress. Let's get back to branding.

So here I am. I've created a graphic novel series ( Sons of Fate) the first of many, and I want to get it to the masses. With the book I have a continuous web series, a fully functioning website, physical and digital copies, color and B&W versions, art prints, etc.

I hit all the social media sites and usually receive great responses. I sell the book to both individuals, and to retail stores alike. In short I'm prepared as I could be in getting my book to the masses outside of doing cons. ( That'll be another topic) You'd think that with all that, I'd had moved a TON of units since I've started right?

Not so much.

Don't get me wrong, I have those who see the detail and work I put into SOF and pick it up individually, and through retail, but there is a problem.

The problem is getting eyes on the books.

Here comes some self –indulgence

YOU WERE WARNED!

You look at the cover, you intrigued. You open the book and see the artwork, your interested, You read a page or two, you're all in and decide to get it. That works…. at shows or a person seeing it individually, but as we know, that's not how most books are bought. They're bought in stores, and next to other books. When that happens, its easier to make the choice. It's easier to buy the book that's the best choice. The best art, best story, best representation of what you're looking for.

You pick up the book that you know. You buy the book you accustomed to buying. The brand you know. You're a brand trust.

That's brand loyalty.

I get it. The main reason why people buy what they know is because that thing can be trusted. We're old friends. I like how you make me feel.

I'm comfortable wit you.

So, what happens when something else comes along, offering a different experience? The same experience but another way to get it. It's not familiar, and you know NOTHING about it. It's a little strange.

Most people stick to what they know. They get the thing that they're used to: Whether its good or bad.

That's where brand loyalty goes wrong.

I've been fortunate enough to sell Sons of Fate in a number of retail comic book stores as well as off blackberyjuice.net. With that, I have run across some retailers who were apprehensive in purchasing the book and have even passed on it even though they liked what they saw and read.

"My customers just won't buy it. It's not X-men or Batman.", they say. I hate hearing that, but I understand. They run a business and in that make a living. They have to provide product that keeps their business in the black. Risk equals reward, but calculated risk equals potential profit loss.

As a proprietor, I say that if you like the thing you promote it to your customers. After all, aren't they coming to your store because you sell only great products? If you push it, shouldn't they take the chance? I say yes, but maybe I'm being to idealistic when it comes to comics. Many a time I've bought a book that didn't hit my satisfaction level. A lot of them mainstream comics at that.

So, what's the point?

Brand does not necessarily mean greatness and lack of brand doesn't always mean lesser quality. It could be just a thing of the big guy standing next to the little guy. In this case, size usually doesn't matter.

After all, it's the fight in the dog, right?

The only way to know is to investigate for yourself.

That goes for retailer and individual comic buyer alike.

Would you take a harder look at an independent book, if it looked like this: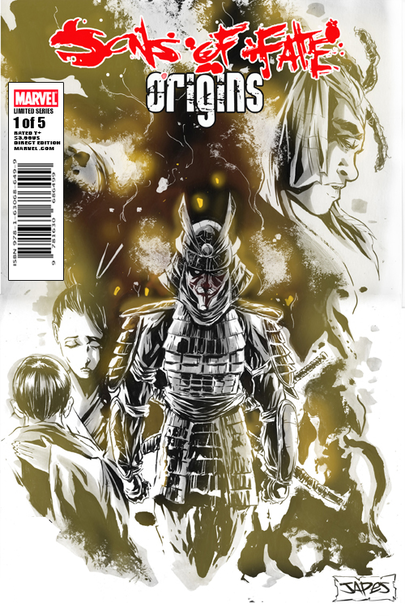 Does this get your attention more? It shouldn't. It's fake. If it did you might be suffering from BRAND LOYALTY.
Truth is, it might, and that is a sad fact. I can' imagine all the things I as a comic fan, and pop culture fan I would've missed out on.

True story: I'm talking to a fellow colleague and at the time and boss whom I was working on a book with. I told him that I needed a good graphic novel to read and could he suggest anything to me. Instantly, he insisted I buy Blacksad. Didn't matter which story I bought, just as long as it was Blacksad. So, I went to the comic store and asked for the book.

Immediately, the associate got excited and told he how great that series was. He scurried off to the back and eagerly came back telling me that it was his last copy. I get it and I'm on my way. As I board the train, I find a seat and decide tot start reading this highly anticipated graphic novel that everyone who hears the word " Blacksad" seems to hyperventilate over.

Before I go any further, I have to tell you one of my pet peeves: I HATE TALKING ANIMALS!

Look, if I run across a pig in real life that can really talk or that frog from the Looney Tunes cartoons that can really sing and dance, that's different.

What I'm talking about is Alvin and the Chimpmunks talking to Dave ( the CGI movies, not the albums, I love those). Not like in Finding Nemo, or Ninja Turtles ( Althought I hate Ninja Turtles for other reasons.) I get those movies. In Nemo, they're talking amongst themselves, so let's assume they "talk fish", and for he turtles, they were mutated... AND OWNED BY APRIL O'NEIL PLAYED BY MEGAN FOX……ARRRGH!!!. Stop J.P. Just stop.

Ok. I've calmed down. I'm back. So now that you know the details of my hatred for talking animals, I open to page 1 of Blacksad, and what am I greeted with: A TALKING CAT DRESSED AS A DETECTIVE!

"Oh, hell no! I thought to myself, as I realize what I just bought. I just spent $20 on a book about talking FUCKING ANIMALS!!!! "OK", I thought. "I might as well read it."

By page 5, I WAS HOOKED!

I was reading a book about taking animals, but I was lovin' every minute of it. It wasn't just the story, it was the art, the style of art, the design all coming together in perfect combination. By the way: its published by Dark Horse.

See that? I would have never picked up THAT book had I'd known it were animals talking. Hell, I'd just picked up my normal copies of whatever the brand I know was.

Blacksad is an awesome series of graphic novels. That's coming from a person who hates ...…. Well, you fill in the rest.

Here's a great example: Game of Thrones. THE REASON why I have HBO, and easily the best show on TV. The novels themselves have been out for 20 years, but have never received the recognition until after the show started. Now I see everyone from teenagers to Suburban housewives reading the novels.

Clearly everyone can't be into fantasy? How is this popular now?

Branding. HBO is known for showing quality shows, but that doesn't excuse the support the book received before the show started. Yeah, those who previously read the books already knew about it knew its greatness, but I didn't become the icon it is today until the show dropped.

Take a look at something that isn't from a brand you recognize. You might be surprised.


For all you anime fans, I remember the day a friend of mine pushed this new series on me. He told me that if I didn't like it he'd pay for it. I was skeptical and wasn't willing to give it a chance. I was just coming off of the Street Fighter the animated movie, and Jo Jo's Bizarre Adventures that I was used to.

Who'd had thunk it? Why would I watch a show called COWBOY BEEBOP? Crazy right?

Here's another one.



I saw this trailer and thought to myself, "So, this is a kid's show, right? Has to be with that kiddie opening. Why would I watch a show about a samurai girl with red hair and a scar on her cheek?

Turned out that RURONI KENSHIN was one of the BEST ANIME shows I've seen.

Can't imagine if I just watched American animation or better yet kept to the status quo pertaining who or what animated shows were targeted to. Better yet something I know and watched not basing it on whether it was good or not.

With my experience in the comic field, that happens more than not. Brand in some cases does not equal quality especially nowadays. I'll go even further SOMETIMES…sometimes the independent book is better.

So in closing I say this to you.
Give a look. When you decide on quality regardless of brand

The brand you love was at one time new and had to compete. Judge the thing " on the thing", not who publishes it. You might be surprised.