It's Sunday afternoon, November 13th, 2016. On this day I sit here working on the scans for the third and last chapter of Sons of Fate, my first independent outing as a comic artist. The last chapter titled Sons of Fate: Revolution was supposed to be out no later than SUMMER 2016. As you can see it is late: EXTREMELY LATE!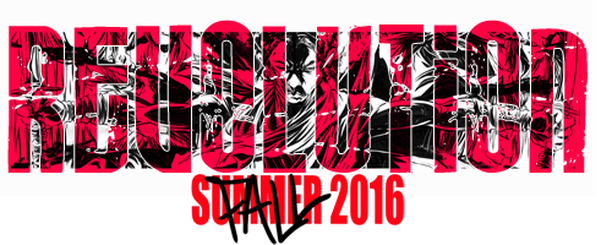 Wait!

I gotta stop. The sandstorm scene from one of my favorite parts in the movie Mad Max Fury Road is up. It is a moment that still amazes me even though I've seen it more times than I can count. The cinematography, direction, special effects, and score AT THAT MOMENT is the culmination and expression of director and creator George Miller is a MASTERPIECE of artistic expression as well as a prime example of what to aim for in storytelling. Note I didn't say just, "In moviemaking."

Ok. I'm back.

I will admit to you and out loud, in the past months of me working on this book, I've had had real tragedy happen to me. The main one being the sickness and death of my mother during its production. That in itself didn't deter me on why the book is late, but in fact focused me to keep going even through my sorrow by someone who not only backed me throughout my endeavor, but played a crucial part in it in its beginning stages. I won't get into it now, but I will talk about those events and what it means to my creative flow at another time. What I want to express to you now is the " WHY' it is so late.

The other day on one of my few breaks I take throughout my workday. I was browsing through Netflix. Honestly I was looking for an anime I wanted to watch while I worked. Instead I found, by happenstance, something even better. It was a documentary about the monumental and inspirational year in the life of Studio Ghibli founder and creator of "My Friend Totoro", and "Princess Mononoke" to name a couple, Hayao Miyazki. In the documentary we got to see his daily tasks in creating what may very well be his last movie in his highly industrious career. At 72 years old the man is a BEAST. Like clockwork he works from 11 am to 9pm everyday, drawing. That includes Saturdays. His process is not a process. He does all of his movies' storyboards himself, in seclusion and with no idea of what lies ahead until he reaches that point. The rest of the studio realizes his ideas into production pieces of these movies only as these ideas become clear. It took him 2 years to finish the storyboard drawings, including coloring each as well as doing key animation to keep the in-betweeners producing. All done, by the way, while still tending the overall production of the entire studio including meetings, and press events.

At 72 years old even in doing what a person loves to do this seems insurmountable but this 72 year old, highly political, CHAIN SMOKING FIREBRAND shows how the impossible is just the lack of will of those the task is presented to.


​Here's the worst (BEST) PART. The one thing that surprised me the most was that ALL OF THE PROJECTS DONE BY THIS STUDIO WERE ALWAYS LATE!

That's right. Every movie Studio Ghibli has made, IN THEIR GREATNESS, were were all over budget and past their deadline.

My first reaction was how could these great movies from this great studio, from this great and inspirational leader, be HERE? A first glace It's easy to say that these consequences have to come from a level of dis-organization, bad management or even maybe even laziness. That's not possible. Not from a person who single-handedly breathes life into the studio 12-14 hours a day by just working. I began to dwell on that as I watched, but as I did so I began to see the truth about it.

In my circumstance it gave me great relief in my understanding. That understanding is this:

IT'S READY WHEN IT'S FINISHED.

​In my professional career I pride myself on always having MET and in most cases PRECEDED a project deadlines. The first two parts of Sons of Fate were no different. REVOLUTION is the exception. What I didn't realize was that the freedom on not having a set deadline that I didn't create was freeing. Honestly it is more accidental and poor management on my part. While SOF Origins, was three chapters and about 110 pages, Legacy 5 chapters and about 170-ish pages, revolution is whopping 8 chapters with an average of 45-ish pages per chapter. Chapter 3&4 alone is almost the entire length of Origins. I haven't counted the actual page number yet, but you can imagine how much bigger it is. Like I said it wasn't done intentionally, actually it was.

​Intentionally,… CREATIVELY I wanted to tell a complete story. Subconsciously, that idea permeated down to the pacing of the story from the number on panels to a page with some pages being nothing but text while others barely having words at all and letting the illustrations tell the tale.

"The Kingdom of Dreams and Madness", the studio Ghibli documentary, put what I was happening to me in perspective and more importantly gave me peace about a thing I now see as a misconception in meeting deadlines.

It's ok to be late. Hell it'll probably be better because of it, at least in this understanding.

Ok wait; I just got to Furiosa realizing the Many Mothers are gone. That scene in the sand with her screaming is another fav scene and coincidentally one I did myself BEFORE I saw this movie in SOF Origins. My kid even leaned over to me and said, "You did that first." as we watched it for the first time together.

I'll be back.
(Moved to watering eyes) Ok, I'm back.

Like Mr. Miyazki, I too am finishing this as I go. With the other two books, I drew, then lettered, then colored, where as in this last book I am doing all three as I do. There are pages (in sequence) that are 100% finished and others (although I'm at the end) that haven't even been drawn yet. The script although already written, has been amended and re-touched here and there, so in point even the story isn't done….. in a sense. Like Mr. Miyazki, I too work 12 to 14 hours a day including weekends, so you can see that I ain't lazy! To tell the truth, I feel that I'm on the right track. I've been emboldened to the process. I'm excited to the idea of what's to come seeing the fruits of my labor so far.

Creatively Revolutions is the best work I've ever done. In doing the two previous books and their results of their creative freedom I was able to express with out "THE BOSS" on my back, brought me to a point where I work in terms of the " feeling" of what I'm trying to get across. I'm NOT worrying about the things I used to stress about like anatomical correctness, action packed scenes, or even adhering to guidelines of what systematic storytelling means.

I take that back.

I'm freed from those restraints by being kept within its boundaries. I adhere more to rules of strict paneling storytelling and anatomy etc., and stay within their confines on each as I work on every pages. I follow the rule physically, but keep the idea of breaking the rule mentally. The result is that my pages are even more creative with heightened storytelling.

It seems "I can have my cake and eat it too. That is what cake is for" ~Martin Reamy

So, what does that mean to you?

Your wait and patience in me missing my deadline, GIVES TO A FAR BETTER BOOK!

In creating this last book, THIS WAY has drained me mentally, physically and emotionally. Then I step back and look at it. Then it all makes sense. Then all the energy comes back… INSTANTLY!

Sons of Fate Revolutions IS A MOTHERF#%KER,…..

but that's a good thing!

Oh, by the way, Mad Max Fury Road was over budget and waaaaaay past it's deadline.

Thank you Mr. Miyazki.

Thanks for listening.