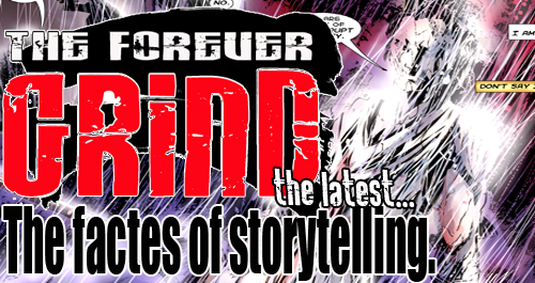 They say, "There is NO bad press.", right? I agree with that statement. It's true, "no press" is worse than bad press. So, regardless whenever somebody has an opinion, people will investigate, decide on their own, and in some cases disagree. While I do agree with that, allow me to add a THIRD option. Bad press allows the discussion of nuance: The reason why things turn out that way, or from what perspective the opinion is coming from.
This conversation is about the nuance.
As most of you know I finally finished the last part of the Sons of Fate magnum opus, with its third part SOF: Revolution. Hard works done, now comes the hard part; Pushing the book. The best place to start: Reviews. So, off I go sending out SOF Revolutions, the last part of the trilogy. Where all the loose ends tie up. Where all the questions get answered, and so forth. Now comes the payoff, right? Nope. Although there were some who already reviewed Sons of Fate Origins they were even fewer who have reviewed Legacy. Those, of course, who didn't have the second volume, they were unable to review Revolution, and out of the reviews I sent, most hadn't gotten past Origins. So, to that, the reviews I sent off had to start with Origins at worst. Now while there were a few who took all three volumes to read in its' entirety, there were others that took it one book at a time. The discussion starts with a site that was the latter.
I sent Sons of Fate: Origins to the comic book site Comic Bastards. The reviewer DESTROYED THE BOOK,…and he was DEAD ON with his analysis!
"Wait, WHAT?!?!?, This is an article where you AGREE with a reviewer that laid total destruction to your baby?"
I heard you,… you asked. If not out loud, in your head.
Well not really. While I do think he was accurate with his analysis about the book, what I want to talk about is the nuance of the story.
Let's delve,….. but first…..
Here's the link to the article so you can read it for yourself, (if you want) or just read on to how I took it and why my agreement is a good thing in terms of the type of story I told in Sons of Fate.
https://comicbastards.com/comics/review-sons-of-fate-origins
So, if you read it, you'll probably agree with that I'm about to say, and if you haven't you're about to find out.
IT WAS BRUTAL. RIGHT?
After immediately reading it, I called a contemporary who will tell me the hard truth about it, and asked him to read it. His response was this: " Well, he compared it to two great examples of artistic achievement.", and " Maybe he just didn't dig it."
I agree with him. Err,… both of them. But at the end of the dissection the reviewer went on to say that the story was pretty good, along with everything else, except of course the character development or lack thereof. That started the "headwheels o' turnin"! There was something I couldn't quite grasp about the scathing of my characters being perfect and because of that, there was no growth, although he thought the story was really good. For those who didn't read the article the reviewer even said at a point, "Why am I reading this?" in reference to how the characters were too perfect to grow. It occurred to me," Damn, this dude is on point." He found the substantive flaw in the book. Kamau and Daiki were the perfect iterations of a master and student. Wow, looking at it like that, why would anyone want to go further? What COULD HAPPEN to those who walk on the righteous path, capable, and thoughtful, and experienced?
Thing is…A LOT!
And that's what Sons of Fate is about. Not the training of the perfect student by the perfect master, but how each deal and contend against imperfect people, situations, and society on a whole. Sons of Fate isn't about perfection, it's about the imperfection of trying to do your best against the imperfection of the situation. From that perspective no one would get that from reading Sons of Fate: Origins. Origins is the set up much like
A New Hope
is the set up for the rest of the Star Wars trilogy. (Although some would make the argument that it's really
Rogue One.
) The story of Sons of Fate isn't JUST about the character's growth but the expanding storyline and complexity of the situations. So, in a sense the main character is the story where the characters and situations are the elements of said character, and that is something you might not get by just reading Origins. Especially if that's what you were expecting to get out of it. That comes as the story goes on.
Now, I immediately emailed and sent the rest of the trilogy for the reviewer to read and give an complete account so stay tuned for their FINAL verdict, BUT that isn't what this is about. I do want to talk about something that weighed on my mind since that review. Ways to tell a story, especially in the comic medium. Nowadays every genre, point of view, angle, and perspective is prevalent in comics. Thanks to the internet allowing access available from those who create to those who are interested. No middleman involved. We are getting a rainbow of ways to tell a story: Bad and Good. I, as I can imagine everyone else who creates, wants their stories they tell to be the latter of the two, but…most of the time, "Want doesn't get."
I began asking myself, "Do most comics tell a basic story?" A superhero is conceived out of an accident, family trauma, or cataclysmic event. The hero is righteous, finding others who think alike and fight against opposing forces that are clearly evil. Black and white, no grays whatsoever. Nah,… can't be. I've read comics all my life. I,as I'm sure you can as well, could bring up many instances where that is NOT the case.
But wait, what happens if the story has to keep going?
If so, how many stories is a person able to tell with nuance with the core components staying the same? Multiply that by the number of comics we read. Put it in that perspective, and it seems like running across a " same type" of story ain't so far fetched. More importantly, success breeds imitation. Zombies been around since the 60's, but KIRKMAN brought them to the limelight. Not to just Horror fans but casuals (that's what I call anyone who isn't SUPER-INTO something specific) as well. That limelight gives opportunity for others to shine, people jump in, and the result is over-saturated market. Kirkman tells the same story: People survive a zombie holocaust, but his success comes in the nuance of HOW he tells his story. The same could be said for George R.R. Martin with Game of Thrones. Medieval mystical stories been around since…Medieval Times, but now everyone from housewives to the elderly watch the show and/ or read the books.
Again, it's the nuance in HOW he tells it. Both are alike in that fact their stories are SLOW ROASTED. They build. You gain a deeper understanding because it takes a longer time to tell you the details. I love stories that do that. That's the main reason for my disdain for ongoing stories in movies, shows, and most importantly comics.
I do not aim to write stories like that.
My disdain becomes one of the main driving forces for when it's my time to step up to the plate,… (or mic, or,.. pick whatever reference you wish) the stories I like, that I want to tell, are the ones that end.
Not like a story arc, I mean literally END!!!
​Whether they "live happily ever after", they "all precious die", or the bad guy wins, FINALITY is what matters most. Those stories, to me, have the most meaning. The push towards finality gives intention to the in-between. How could the reader care about someone/ something if they know they're never going to loose it?
​Sounds familiar right?
When Jean Gray died, I was 6 years old. Marvel DID bring her back, but did to 10 years later, and as a comic reader LOVED IT! I was young, but I don't remember if that had been done before. I doubt it. We were coming out of the "All of Nothing" days where if a comic character dies, THEY DIED! Hell, Marvel even had a universe book of dead characters. Jean Grey was in that book.
Since the Fantastic Four found the real Jean Grey in the cocoon in the East River where the Phoenix Entity put her and assumed her essence, how many times has Jean died, and came back? I don't know, but methinks it was more than even GOKU, without Dragonballs to do it.
BTW, I hate that as well.
Wait, they're BOTH still around! A FUUUUUUUCK!!!! 2017 and Dargon Ball Z and the X men cant let go? So, here's the question:

Do you really care anymore?

I'll qualify that question. Is it exciting for you anymore? No, right?

It's like," Ok, they brought back( insert whomever died and was brought back) again." or, " I know (so- and-so) wasn't going to stay dead.

Not that much fun.

Not that original anymore.

It worked before, but like Daffy taught us: A great trick is a trick you can only pull off once.

Slow stories don't burn out. If they do, there usually is a good reason why. But in my definition of the best stories, I ask this: What's the point of bringing someone back if it's all going to end any way? In my never ending quest to tell better stories, stories that have finality, I don't want to get caught in the troupes of similarity whether good or bad. If I tell a similar story, I want to tell it in a way that is new and nuanced. The point I'm trying to tell in SOF isn't told in its' "Origins" but concluded in its' "Revolution". Kamau, especially in Origins is akin to Forrest Gump. While Forrest was the main character in the movie he was mostly a bystander. He "happened" into most of the major events of his lifetime, and in effect changed him whilst keeping true to his core beliefs: loving Jenny, and being, well…..a good person. I don't know if I accomplished that ideal in the entirety of Sons of Fate.

I'd like to think I did.

​ I hope I did.

I get it, I even agree with the editor as I stated in the beginning. Everything he stated was on point, and even had me wanting to safeguard myself from falling into the trap that most creative people fall into: NOT LISTENING TO THEIR CRITICS. Good or bad ( and in this case good,.. and true), there is always something worth learning. Hopefully from what he said about the book I think he'll see that what I aiming for was to tell the story of Sons of Fate but have the meaning reveal itself as it concluded. We'll find out when he finishes it and releases his review about the last two books. Learning from what he said I continue to push the boundaries of my storytelling. I will keep listening, and most importantly keep giving you my best effort. Otherwise, what's the point?